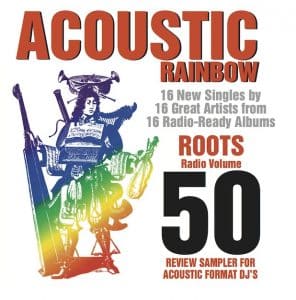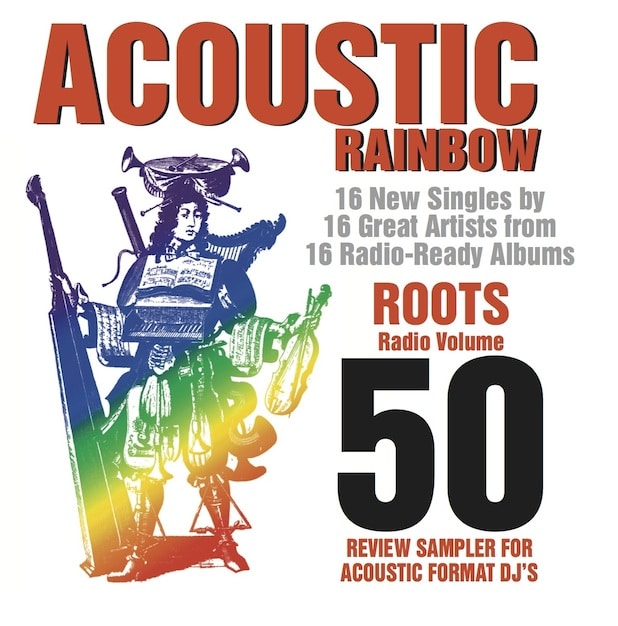 Here is the list of stations your song will be serviced to.
Nearly 1000 DJs will receive the latest Acoustic Rainbow CD Sampler Volume 50 as a mailed COMPACT DISC.
SOME STATIONS especially web-based, international and LP stations are converting to digital delivery, so an additional 600 worldwide receive the AR Sampler as a high res MP3 digital file for airplay. This INCLUDES extra full album digital servicing

Updated Jan 2019.
Station/Show/City/State
Where no show is specified it is sent to the Music Director
Acoustic Accents
Homer
AK
KBBI 890 AM
Beggar's Banquet
Homer
AK
KBBI 890 AM
Homer
AK
KBBI 890 AM
Faking Friday
Homer
AK
KBRW-FM 91.9
Barrow
AK
KCAW
Sitka
AK
KEUL 88.9 FM
Girdwood
AK
KFSK
High Country
Petersburg
AK
KHNS-FM 102.3
Backcountry
Haines
AK
KHNS-FM 102.3
Backcountry
Haines
AK
KMXT-FM 100.1
Kodiak
AK
KNBA
The Arctic Cactus Hour
Anchorage
AK
KOTZ 720 AM
Kotzebue
AK
KRBD
Ketchikan
AK
KRBD
The Mindless Side of Town
Ketchikan
AK
KRNN
Juneau
AK
KRNN
Juneau
AK
KSKO 870 AM
McGrath
AK
KUCB FM
Afternoon Hits with Mia
Unalaska
AK
KUCB FM
Far West Bluegrass
Unalaska
AK
Alabama Public Radio
All Things Acoustic
Tuscaloosa
AL
Sundilla Music
Auburn
AL
wildmansteve.com
Auburn
AL
WLJS 91.9 FM
The Folk Renaissance Radio Show
Jacksonville
AL
In Time/Out of Time Radio
In Time Radio/Out of Time Radio
Hot Springs
AR
KABF-FM 88.3
Little Rock
AR
KASU-FM 91.9
State University
AR
KASU-FM 91.9
Tradition
State University
AR
KUAF-FM 91.3
The Pickin' Post
Fayetteville
AR
KUAR
From Albion and Beyond
Little Rock
AR
KUAR
Not Necessarily Nashville
Little Rock
AR
The Folk Sampler
Siloam Springs
AR
AMAZ Radio
Mesa
AZ
Dream Weaver
Phoenix
AZ
KBRP
The Headphone Observatory
Bisbee
AZ
KRIM
Acoustic Traveler
Payson
AZ
KXCI
Acoustic Alternative
Tucson
AZ
KXCI
Tucson
AZ
Radio Vagabond
Peoria
AZ
worldwidebluegrass.com
Globe
AZ
Access Sacramento
Semi Twang
Sacramneto
CA
AltVille
Riverside
CA
KALW
Patchwork Quilt
San Francisco
CA
KALX FM
Why Baby Why
Berkeley
CA
KCBL
Fair Oaks
CA
KCBX
Broken Spoke Folk Show
San Luis Obispo
CA
KCBX
Across The Tracks
San Luis Obispo
CA
KCBX
Citybilly
San Luis Obispo
CA
KCBX
Morning Cup
San Luis Obispo
CA
KCBX
The Road Home
San Luis Obispo
CA
KCRW-FM 89.9
Santa Monica
CA
KCRW-FM 89.9
Santa Monica
CA
KCRW-FM 89.9
Santa Monica
CA
KCSB
Santa Barbara
CA
KCSN-FM
Americana Matinee
Northridge
CA
KCSN-FM
Bluegrass Etcetera
Northridge
CA
KCSN-FM
Saturday Evening Music Mix
Northridge
CA
KCSS
Turlock
CA
KDVS
The Saturday Morning Folk Show
Davis
CA
KFJC
Los Altos Hills
CA
KFOK Community Radio
Georgetown
CA
KFSR Radio
Fresno
CA
KGGV
Stumptown Blend
Guerneville
CA
KGGV
Traditional Ballads
Guerneville
CA
KHSU
The Buck Calhoun Show
Arcata
CA
KHSU
Folklife Woodshed
Arcata
CA
KHSU
In The Tradition
Arcata
CA
KHSU
Arcata
CA
KHUM
Chicken Scratch Show
Ferndale
CA
KISL-FM
Avalon
CA
KKUP
Picks Lists
Santa Clara
CA
KKUP
Santa Clara
CA
KKUP
Santa Clara
CA
KMUD 91.1 FM
Redway
CA
KNYO
Fort Bragg
CA
KPDO 89.3 FM
Bluegrass and Baseball
Pescadero
CA
KPFK-FM 90.7
Woodland Hills
CA
KPIG
Watsonville
CA
KPIG
Watsonville
CA
KPIG
Watsonville
CA
KQNY
Acoustic Space
Quincy
CA
KQNY
Eclectic Currents
Quincy
CA
KQNY
The Independent Track
Quincy
CA
KRCB
KRCB Music Mornings
Rohnert Park
CA
KRCB
KRCB
Santa Rosa
CA
KRCB
Your Average Abalone
Rohnert Park
CA
KRCB
Our Roots Are Showing
Rohnert Park
CA
KROV 91.1
Oroville
CA
KRSH
Santa Rosa
CA
KSCU Student Radio
Santa Clara
CA
KSPC-FM 88.7
Claremont
CA
KUCI-FM 88.9
Irvine
CA
KUCR Radio
Riverside
CA
KVMR -FM
County Line Bluegrass
Nevada City
CA
KVMR -FM
Four Strong Winds
Nevada City
CA
KVMR -FM
Nevada City Limits
Nevada City
CA
KVMR-FM
New Brick Road
Nevada City
CA
KVMR-FM
Nevada City
CA
KWMR
Point Reyes Station
CA
KXLU 88.9 FM
Los Angeles
CA
KZFR
American Pastimes
Chico
CA
KZSC
Heaven's Bar 'n Grill
Santa Cruz
CA
KZSC
Backroads
Santa Cruz
CA
KZSC
Santa Cruz
CA
KZSU-FM 90.1
Stanford
CA
KZSU-FM 90.1
Stanford
CA
KZYX
A Joyful Noise
Philo
CA
KZYX
The Audible Feast
Philo
CA
KZYX
Humble Pie
Philo
CA
KZYX
The Sonic Blender
Philo
CA
Seasons & Celebrations
Los Angeles
CA
Semi Twang
Sacramento
CA
The Record Finders
Los Angeles
CA
Under Currents
Walnut Creek
CA
World Wide Bluegrass
San Diego
CA
Your Average Abalone
KRCB
Santa Rosa
CA
KAFM
On The Porch
Grand Junction
CO
KAFM-FM 88.1
Grand Junction
CO
KAFM-FM 88.1
FolkWaves
Grand Junction
CO
KAFM-FM 88.1
Tied To The Tracks
Grand Junction
CO
KAJX
Crosscurrents
Aspen
CO
KAJX
The Will Kahn Show
Aspen
CO
KBUT
Fresh Tracks
Crested Butte
CO
KBUT
Monday Midnight Mixtape
Crested Butte
CO
KCMJ-LP
Front Range Radio
Colorado Springs
CO
KCMJ-LP
Grass Roots Radio
Colorado Springs
CO
KDNK
Acoustic Renegade
Carbondale
CO
KDNK
Roots, Branches, & Buds
Carbondale
CO
KDNK
Jake & Jane Show
Carbondale
CO
KDUR 91.9/93.9 FM
Durango
CO
KGNU
Roots & Branches
Golden
CO
KGNU-FM 88.5
Boulder
CO
KHEN 106.9 FM
Salida
CO
KLZR
Fridays at the Coffeehouse
Westcliffe
CO
KLZR
Mountain Express
Westcliffe
CO
KLZR
Music Your Way
Westcliffe
CO
KMSA 91.3 FM
Grand Junction
CO
KMSA 91.3 FM
Grand Junction
CO
KOTO-FM 91.7
Telluride
CO
KQSC Mountain Country
Colorado Springs
CO
KRCC-FM 91.5
Colorado Springs
CO
KRFC
Folk Era Lite
Ft. Collins
CO
KRFC
Wednesday Mix
Ft. Collins
CO
KRFC
The Folk Show
Ft. Collins
CO
KRFC
Routes & Branches
Ft. Collins
CO
KRZA-FM 88.7
Alamosa
CO
KRZA-FM 88.7
Ballads and Bluegrass
Alamosa
CO
KSJD-FM
Freewheelin'
Cortez
CO
KSJD-FM
Doc's Roadhouse
Cortez
CO
KSUT-FM 89.5
Music Blend
Ignacio
CO
KUNC-FM 91.5
Greeley
CO
KUSD-FM 89.7
Centennial
CO
KVNF-FM 90.9
The Sweet Sound
Paonia
CO
KVNF-FM 90.9
Crossroads
Paonia
CO
KVNF-FM 90.9
Free Range Radio
Paonia
CO
KVNF-FM 90.9
Just Us Folk
Paonia
CO
KWSB-FM 91.1
Gunnison
CO
Prescription Bluegrass
Bayfield
CO
ETown
Boulder
CO
Roots World
New Haven
CT
WAPJ
Pickin' 'n' Fiddlin'
Torrington
CT
WCNI
Twisted Roots Radio
New London
CT
WCNI-FM
Traditions
New London
CT
WCNI-FM
Country & Roots
New London
CT
WCNI-FM
The World's Oldest Teenager
New London
CT
WCNI-FM
You Never Really Know
New London
CT
WCNI-FM
Home on the Eclectic Range
New London
CT
WCNI-FM
New London
CT
WECS Radio
Willimantic
CT
WESU
75% Folk
Middletown
CT
WESU
Acoustic Bender
Middletown
CT
WESU
Folk Music
Middletown
CT
WESU
The Unfocused Folk
Middletown
CT
WHDD
Sharon
CT
WHNU
New Haven
CT
WHUS-FM 91.7
Bluegrass Cafe
Storrs
CT
WHUS-FM 91.7
The Redneck of Darkness"
Storrs
CT
WHUS-FM 91.7
Sunday Night Folk Festival
Storrs
CT
WMNR-FM 88.1
Good Folk
Monroe
CT
WNHU
West Haven
CT
WPKN
Songtrails
Bridgeport
CT
WPKN
Bridgeport
CT
WPKN
Dave Hogan Radio
Bridgeport
CT
WPKN
Bridgeport
CT
WSHU-FM 91.1
Profiles in Folk
Fairfield
CT
WWUH
Folk
West Hartford
CT
WWUH-FM 91.3
Watch This Space
West Hartford
CT
All Songs Considered
Washington
DC
WAMU
The Al Steiner Show
Washington
DC
XM15 Village
Washington
DC
WVUD-FM 91.3
Folk Music
Newark
DE
WVUD-FM 91.3
Campus Voices
Newark
DE
WVUD-FM 91.3
Newark
DE
Acoustic Highway
Deland
FL
AMI Radio
Brandenton Beach
FL
FM Odyssey
Merritt Island
FL
WFCF
Good Morning Americana
St Augustine
FL
WFCF
Messages
St Augustine
FL
WFIT 89.5 FM
Sound Waves
Melbourne
FL
WFIT 89.5 FM
Christoph's Vault
Melbourne
FL
WFIT 89.5 FM
It's Folk, Bluegrass & More
Melbourne
FL
WIKX
Port Charlotte
FL
WJCT-FM 89.9
On String Theory,
Jacksonville
FL
WLRN-FM 91.3
Folk & Acoustic Music
Miami
FL
WMNF
Sonic Detour
Tampa
FL
WMNF
Acoustic Peace Club
Tampa
FL
WMNF
Postmodern Hootenany.
Tampa
FL
WMNF
The Waking Hours
Seminole
FL
WSLR
The Friday Happy Hour
Sarasota
FL
WSLR
From the Mtns. & Beyond
Sarasota
FL
WUWF
Acoustic Interlude
Pensacola
FL
WVFS Tallahassee
Tallahassee
FL
WXKQ FM, WTCW AM
Bluegrass Ballads
Webster
FL
GOTRADIO.COM
Cumming
GA
The Creek 100.9 FM
Macon
GA
WREK
Back Alley Pork Roost
Atlanta
GA
WREK
Country Classics
Atlanta
GA
WRFG-FM 89.3
Atlanta
GA
WTUF-FM 106.3
Bluegrass
Thomasville
GA
WUOG
Athens
GA
KKCR Community Radio
Ells Bells
Hanalei
HI
Iowa Public Radio
The Folk Tree
Cedar Falls
IA
KKRF
Country Unplugged
Patterson
IA
KPVL 89.1
Decorah
IA
KRUI
Iowa City
IA
KRUU
Open Source Music Mix
Fairfield
IA
KRUU-LP FM
Roots Rock Roadhouse
Fairfield
IA
KUNI
Studio One Tracks
Cedar Falls
IA
KURE
Alternative Soup for the Soul
Ames
IA
KURE
Foxtrot & The Smith
Ames
IA
KURE
Ames
IA
KWLC 1240 AM
Decorah
IA
KBSU-FM 90.3
Open Range Radio
Boise
ID
KUOI FM
Moscow
ID
Radio Bosie
Greasy Greens
Bosie
ID
Radio Bosie
Ramblers' Retreat
Bosie
ID
Radio Bosie
Square Roots
Bosie
ID
Reviews
Illinois Entertainer
Chicago
IL
WDBX-FM 91.1
Folk Fiasco
Carbondale
IL
WDBX-FM 91.1
The Coffeehouse
Carbondale
IL
WDBX-FM 91.1
TGIFolk
Carbondale
IL
WDCB-FM 90.9
Folk Festival
Joliet
IL
WEFT
From Joshua Tree Inn
Champaign
IL
WEFT
Old Time Country, Rockabilly, and Bluegrass Jamboree
Champaign
IL
WEFT
New Folk & Country
Champaign
IL
WFMT-FM 98.7 The Midnight Special
Mahomet
IL
WGLT-FM 89.1
Acousticity
Normal
IL
WIUM-FM (Tri States)
Folk Weekends
Macomb
IL
WIUM-FM (Tri States)
Music from the Tr- States
Macomb
IL
WLUW
Somebody Else's Troubles
Chicago
IL
WLUW
Country Breakfast
Chicago
IL
WLUW FM
Chicago
IL
WNUR
The Folk Show
Chicago
IL
WUIS/WIPA
Springfield
IL
WXRT
Local Anesthetic
Chicago
IL
WBOI-FM 89.1
Meet the Music
Fort Wayne
IN
WEAX
Angola
IN
WECI-FM 91.5
Richmond
IN
WELT-LP
Fort Wayne
IN
WFHB
Afternoons
Bloomington
IN
WFHB
Sweetheart of the Radio
Bloomington
IN
WGCS-FM 91.1
Down Home
Goshen
IN
WGCS-FM 91.1
Goshen
IN
Womanspace /Tue Am Mix
Womanspace /Tue Am Mix
Bloomington
IN
WVPE
Back Porch
Elkhart
IN
WVPE
Back Porch
South Bend
IN
High Plains Public Radio (Garden City)
Open Range
Garden City
KS
KANU-FM 91.5
Trail Mix
Lawrence
KS
KFDI
Benton
KS
KJHK 90.7 FM
Lawrence
KS
ARTxFM
Blue Highways/Mike Suttles
Louisville
KY
Lexington Community Radio
Lexington
KY
WFPK-FM 91.9
Louisville
KY
WFPK-FM 91.9
Roots 'n' Boots
Louisville
KY
WHAY
Free Range Mornings
Whitley City
KY
WHAY
Americana Mix
Whitley City
KY
WJSN
Trading Post
Jackson
KY
WKMS
Sounds Good and Beyond the Edge
Murray
KY
WKMS
Music From the Front Porch
Murray
KY
WKU Radio
Barren River Breakdown
Bowling Green
KY
WKWC
Best of Bluegrass
Owensboro
KY
WMKY
Muddy Bottom Blues
Morehead
KY
WMKY
Bluegrass Railroad
Morehead
KY
WMMT
Whitesburg
KY
WNKU
Music with Pam Temple
Highland Heights
KY
WNKU
Music With Keegan
Highland Heights
KY
WNKU
WNKU Music w/ Liz Felix
Highland Heights
KY
WNKU
Highland Heights
KY
WRFL
Blue Yodel #9
Lexington
KY
WSIP 98.9 FM
Paintsville
KY
WSKV
Irvine
KY
WSKV
Stanton
KY
WUKY
Rock & Roots
Lexington
KY
WUKY
Lexington
KY
WYCO
Bluegrass Express
Richmond
KY
KRVS
Out on the Fringe
Lafayette
LA
KRVS
Blues Box
Lafayette
LA
KSCL
Shreveport
LA
Prescription Bluegrass
Cedar City
LA
WHYR
It's For Folks
Mandeville
LA
WHYR
Music Lagniappe
Mandeville
LA
WRKF
Hootenanny Power
Baton Rouge
LA
WTUL
Folk
New Orleans
LA
WTUL
New Orleans
LA
Live 365
Charlestown
MA
Odyssey Productions
Auburndale
MA
Troubadour 1700 AM
Shirley
MA
WBRS 100.1 FM
Off the Beaten Path
Waltham
MA
WBRS 100.1 FM
Waltham
MA
WCUW
In The Tradition
Worcester
MA
WCUW
In The Tradition
Worcester
MA
WCUW
The Jukebox of Americana/Crosstracks
Worcester
MA
Well-Rounded Radio
Jamaica Plain
MA
WHRB 95.3 FM
The Folk Show
Cambridge
MA
WJDF
Orange
MA
WMBR-FM 88.1
Troubador
Cambridge
MA
WMBR-FM 88.1
Lost Highway
Cambridge
MA
WMCB
Leverett
MA
WMFO
Medford
MA
WMUA
For Folk's Sake
Amherst
MA
WMUA
Amherst
MA
WMVY-FM 92.7
Vineyard Haven
MA
WOMR-FM 91.9
The Old Songs' Home
Provincetown
MA
WOMR-FM 91.9
Friday Folk
Provincetown
MA
WOMR-FM 91.9
The Kitchen Sink
Provincetown
MA
WRBB 104.9 FM
Boston
MA
WRBS/Watch City Arts
Orleans
MA
WTCC-FM 90.7
Springfield
MA
WUMB
Boston
MA
WUMB
Boston
MA
WUMB
Boston
MA
WUMD 89.3 FM
Root and Branch
N. Dartmouth
MA
WXOJ- Valley Free Radio
Roots And More
Florence
MA
WZLY
WZLY
Wellesley
MA
Common Sense Songs
Great Barrington
MA
WHFC
Bel Air
MD
WFWM-FM
Bluegrass-Folk-Celtic
Frostburg
MD
WFWM-FM
Sounds Eclectic
Frostburg
MD
WMUC-FM 88.1
Roots and Wings
College Park
MD
WTMD
Detour
Towson
MD
WTMD
The Roadhouse
Towson
MD
WBOR-FM 91.1
Brunswick
ME
WERU
Morning Maine
East Orland
ME
WERU-FM 89.9
Front Porch Folk
East Orland
ME
WERU-FM 89.9
Saturday Morning Coffeehouse
East Orland
ME
WERU-FM 89.9
High on a Mountain
East Orland
ME
WERU-FM 89.9
Folk Music
East Orland
ME
WERU-FM 89.9
Sunday Morning Coffeehouse
East Orland
ME
WMEB FM 91.9
Orono
ME
WMHB-FM 90.5
Waterville
ME
WMHB-FM 90.5
Jigs, Hoedowns & Songs O'Tragedy
Waterville
ME
WMPG FM
Hardly Strictly
Portland
ME
WMPG FM
Us Folk
Portland
ME
WMPG-FM
Millpond Mill Americana
Portland
ME
Acoustic Café
Ann Arbor
MI
CJAM
Steel Belted Radio
Grosse Pointe
MI
CJAM
Grosse Pointe
MI
WBLV-FM 90.3
Twin Lake
MI
WCBN-FM 88.3
Down Home Show
Ann Arbor
MI
WCBN-FM 88.3
Bill Monroe for Breakfast
Ann Arbor
MI
WDBM-FM 88.9
Torch & Twang
East Lansing
MI
WDET 101.9 FM
Modern Music
Detroit
MI
WHFR-FM 89.3
Dearborn
MI
WKKM
Harrison
MI
WLNZ 89.7FM
Eclecticana
Lansing
MI
WLNZ 89.7FM
Roots & Branches
Lansing
MI
WMUK
Grassroots
Kalamazoo
MI
WNMC
Tuesday American Crossroads
Traverse City
MI
WNMC
Monday American Crossroads
Traverse City
MI
WNMC
Thursday American Crossroads
Traverse City
MI
WNMC
Folk Aire
Traverse City
MI
WNMU-FM 90.1
Just Folks
Marquette
MI
WOAS-FM 88.5
Ontonagon
MI
WXOU 88.3 FM
Rochester
MI
WYCE
Grand Rapids
MI
Current 89.3
St Paul
MN
KAXE
Grand Rapids
MN
KAXE
Back Porch Harmony
Grand Rapids
MN
KBSB
Bemidji
MN
KFAI
Minneapolis
MN
KFAI
Womenfolk
Minneapolis
MN
KFAI
Good 'N Country
Minneapolis
MN
KLOH
Cross Country Music Program
Pipestone
MN
KMSU
Folk Scene Etc.
Mankato
MN
KUMD-FM 103.3
Music Through The Day
Duluth
MN
KUMD-FM 103.3
Folk Migrations
Duluth
MN
KUMM
Morris
MN
KVSC-FM 88.1
Frets Folk & Bluegrass Show
St. Cloud
MN
KVSC-FM 88.1
Root Cellar
St. Cloud
MN
WTIP 90.7 FM
Grand Marais
MN
WTIP 90.7 FM
Thirsty boots
Grand Marais
MN
Black River Public Radio
Poplar Bluff
MO
KCLC FM 89.1
The Acoustic Edge
St. Louis
MO
KDHX
St. Louis
MO
KDHX
The Space Parlour
St Louis
MO
KDHX
Backroads with Stacy
St Louis
MO
KKFI-FM
Kansas City
MO
KOPN
Rootin Tootin Radio
Columbia
MO
KOPN
Sunday Morning Coffee House
Columbia
MO
KOPN
Radio Omega
Columbia
MO
KRCU
Your Folk Connection
Cape Girardeau
MO
KSMU
Seldom Heard Music
Springfield
MO
KSMU
Springfield
MO
KWUR-FM 90.3
St. Louis
MO
Nielsen BDS
Kansas City
MO
Prescription Bluegrass
St Clair
MO
WMSV-FM
Mississippi State
MS
WQRZ-LP 103.5 FM
Bay Saint Louis
MS
KGLT-FM 91.9
Americana
Bozeman
MT
KGLT-FM 91.9
Bluegrass & Americana
Bozeman
MT
KGLT-FM 91.9
Bozeman
MT
KVRZ
Libby
MT
Montana Public Radio
The Folk Show
Missoula
MT
98.1 River
Asheville
NC
Country Gold/Mountain Mornings
Asheville
NC
Knee Deep in Bluegrass
Elkin
NC
MusicMixCentral
Morganton
NC
Public Radio East
The Sound
New Bern
NC
WBAG/WKRX/WLHL
Hometown Festival
Snow Cape
NC
WCOM
The Revolution Starts Now
Carrboro
NC
WCQS
Close to Home
Asheville
NC
WCQS
Country Roots
Asheville
NC
WEZU-FM 95.9
Roanoke Rapids
NC
WFMX-FM 105.7
Landis
NC
WGWG 88.3 FM
Boiling Springs
NC
WKNC-FM 88.1
Wizard Doctor
Raleigh
NC
WNCW
Music Mix at 9am
Spindale
NC
WNCW
Cosmic American Show
Spindale
NC
WNCW
Music Mix at 9pm
Spindale
NC
WQFS
Greenboro
NC
Wrecking Ball Radio
Chapel Hill
NC
WSGE 91.7 FM
Dallas
NC
WUIN
Wilmington
NC
WUNC-FM 91.5
Back Porch Music
Chapel Hill
NC
WXDU 88.7 FM
Durham
NC
WXDU 88.7 FM
Americana
Durham
NC
KNDS
Fargo
ND
KZUM-FM 89.3
Lincoln
NE
Acoustic Outpost
Hollis
NH
NHPR
The Folk Show
Concord
NH
Out Of The Woods
Concord
NH
WSCA 106.1
Across The Great Divide
Portsmouth
NH
WUNH-FM 91.3
Folk
Durham
NH
WUNH-FM 91.3
Durham
NH
WBZC
The Roots Rock Review
Pemberton
NJ
WBZC
Burlington County Bluegrass
Pemberton
NJ
WDHA
Cedar Knolls
NJ
WDVR-FM 89.7
Beg, Borrow & Steel
Sergeantsville
NJ
WDVR-FM 89.7
Bluegrass Breakfast
Sergeantsville
NJ
WDVR-FM 89.7
Route 66
Sergeantsville
NJ
WDVR-FM 89.7
Currents & Traditions
Sergeantsville
NJ
WDVR-FM 89.7
The Music Shop
Sergeantsville
NJ
WFDU
Crescent City Roadhouse
Teaneck
NJ
WFDU
Traditions
Teaneck
NJ
WFDU
Music America
Teaneck
NJ
WFDU
Crash on the Levee
Teanack
NJ
WLVR
The Roots Rock Revolution
Kearny
NJ
WLVR
The Sandwich
Kearny
NJ
WLVR
Fritzrocks
Kearny
NJ
WLVR
Last Chance Medicine Show
Kearny
NJ
WMSC
Radio Nowhere
Montclair
NJ
WMSC
The Morning Buzz
Montclair
NJ
WNTI
The Brad Totaro Show
Hackettstown
NJ
WPRB-FM 103.3
Stockton
NJ
WRSU
New Brunswick
NJ
WTSR-FM 91.3
Ewing
NJ
WTSR-FM 91.3
Legacy
Ewing
NJ
KALH
La Luz
NM
KBAC 98.1 FM
Santa Fe
NM
KCIE FM
Dulce
NM
KGLP
Green Chile Revival and Medicine Show
Gallup
NM
KRUX
Las Cruces
NM
KSFR 101.1FM
Acoustic Explorations
Santa Fe
NM
KSFR 101.1FM
Acoustic Explorations
Santa Fe
NM
KTDB-FM 89.7
Pine Hill
NM
KUNM-FM 89.9
Albuquerque
NM
KUNM-FM 89.9
Folk Routes
Albuquerque
NM
KTHX
Roots Rock Revival
Reno
NV
KUNR-FM 88.7
Jimbo's Juke Joint & Acoustic Roadhouse Cafe
Reno
NV
KUNR-FM 88.7
The Risky Biscuit Hayseed Hoot
Reno
NV
DX Radio Network
Rochester
NY
Elmore Magazine
New York
NY
Folk Alley
Folk Alley
Saranac Lake
NY
Geneva Community Radio
Geneva
NY
Hootenanny Café
Hootenanny Café
Warwick
NY
Mostly Folk
Mostly Folk
Halcottville
NY
NCPR
String Fever
Canton
NY
Rochester Free Radio
Rochester
NY
Sirius Satellite Radio
Outlaw Country
New York
NY
Traditions
Oceanside
NY
WAER
Common Threads
Syracuse
NY
WAER
Syracuse
NY
WAMC
The Hudson River Sampler
Schenectady
NY
WAMC
Bluegrass Time
Schenectady
NY
WCNY-FM 91.3
Bluegrass Ramble
Syracuse
NY
WCVF-FM
General Eclectic
Fredonia
NY
WDYN Independent Radio
Rochester
NY
WEXT
Afternoon
Troy
NY
WEXT
Bluegrass Round the Bend
Troy
NY
WFUV
The Sunday Supper
Bronx
NY
WHRW-FM 90.5
The Signal
Binghamton
NY
WHRW-FM 90.5
The Global Catastrophe
Binghamton
NY
WHRW-FM 90.5
Trying To Be Cool
Binghamton
NY
WHVW
Real Hillbilly Music Show
Poughkeepsie
NY
WIOX
Folk Music and Other Stuff
Middleburgh
NY
WIOX 91.3FM
WIOX 91.3FM
Roxbury
NY
WJFF-FM 90.5
Folk Plus
Jeffersonville
NY
WJFF-FM 90.5
Ramble Tamble
Jeffersonville
NY
WKNY
Kingston
NY
WKZE 98.1 FM
The Up & Running Morning Show
Red Hook
NY
WKZE-FM 98.1
New Harmony
Red Hook
NY
WPPB
Afternoon Ramble
Southampton
NY
WPPB
Bonnie in the Morning
Southhampton
NY
WRPI-FM 91.5
Troy
NY
WRUR-FM 88.5
A Variety of Folk
Rochester
NY
WSIA-FM 88.9
Staten Island
NY
WSKG Public Broadcasting
Binghamton
NY
WSLU 89.5 FM
The Folk Show
Canton
NY
WSLU 89.5 FM
Music For a Monday Afternoon
Canton
NY
WSPN
Simpatico
Saratoga Spring
NY
WUSB
WUSB
Stony Brook
NY
WVBR
Bound For Glory
Ithaca
NY
WVBR
Salt Creek Show
Ithaca
NY
WVBR-FM 93.5
Ithaca
NY
WVBR-FM 93.5
Ithaca
NY
WVKR-FM 91.3
Folk
Poughkeepsie
NY
WVKR-FM 91.3
Poughkeepsie
NY
Clear Channel Radio
Cincinnati
OH
Online Folk Festival
Columbus
OH
RMR Reviews
Cleveland
OH
WAIF 88.3
Cincinnati
OH
WAIF 88.3
Blue Snakes and Banjos
Cincinnati
OH
WAIF 88.3
Gene's Bluegrass
Cincinnati
OH
WALH
Back to the Blues
Wilmington
OH
WBGU-FM
The Folk Shows
Bowling Green
OH
WBGU-FM
Rockin' the Blues
Bowling Green
OH
WBWC
Running Late
Berea
OH
WCBE
Roots 'N Offshoots
Columbus
OH
WCSB
Timmie The Hippie's Folk Show
Cleveland
OH
WCSB
Steve's Folk
Cleveland
OH
WDUB 91.1 FM
Go Folk Yourself
Granville
OH
WGRN-LP
Worthington
OH
WGRN-LP
Dirty Roots
Worthington
OH
WJCU 88.7 FM
The Heights
University Heights
OH
WJCU 88.7 FM
The I, The IV & The V
University Heights
OH
WJCU-88.7 FM
Red Ramblon' Road
Mayfield Hts.
OH
WKSU Stations
Folk Alley
Kent
OH
WLFC
Breakdown
Findlay
OH
WMCO-FM 90.7
New Concord
OH
WOBC-FM 91.5
Oberlin
OH
WOBO
Bluegrass Showcase
Owensville
OH
WOSU-AM
Bluegrass Ramble
Columbus
OH
WOUB-FM 91.3
Athens
OH
WRUW
Cleveland
OH
WRUW
Betwixt and Between
Cleveland
OH
WRUW
Soy Milk and Fried Dough
Cleveland
OH
WYSO
Excursions
Yellow Springs
OH
WYSO
Down Home Bluegrass
Yellow Springs
OH
WYSO
Dear Green Place
Yellow Springs
OH
WYSO
WYSO
Yellow Springs
OH
WYSU-FM 88.5
Folk Festival
Youngstown
OH
Glad4Trad
Oberlin
OH
KCSC
Edmond
OK
KRSC Radio
Claremore
OK
KUSH AM 1600
Stillwater
OK
Public Radio Tulsa
Folk Salad
Tulsa
OK
Jefferson Public Radio
Ashland
OR
KBOO
Cascadia Coffeehouse
Portland
OR
KBOO
Folk Espresso
Portland
OR
KBOO
Portland
OR
KBOO
Portland
OR
KBOO
Movin' On
Portland
OR
KEOL-FM 91.7
La Grande
OR
KLCC
Front Porch
Eugene
OR
KLCC
The Saturday Cafe
Eugene
OR
KPSU
Portland
OR
KRRM 94.7 FM
Grants Pass
OR
KRVM
Tupelo Honey
Eugene
OR
KRVM
Acoustic Junction
Eugene
OR
KXCR
Florence
OR
KYAC 94.9 FM
Music Crossroads
Mill City
OR
KYAC 94.9 FM
Mill City
OR
KYYT
The Dalles
OR
Ocean Beach Radio
Newport
OR
Homegrown Music Show (WKPS)
University Park
PA
Sanctuary Bluegrass/WBYO-FM
Sellersville
PA
Sing Out
Bethlehem
PA
Sunday Morning Folk/In The Tradition
Allentown
PA
WDIY 88.1 FM
Bethlehem
PA
WDIY FM
Sunday Morning Folk
Bethleham
PA
WEBR
Folk/Singer Songwriter Mix
North Versailles
PA
WFNM-FM 89.1
Lancaster
PA
WFSN-LP 96.7
Union City
PA
WIUP-FM 90.1
Modern Troubadours
Indiana
PA
WMUH 91.7 FM
Allentown
PA
WPSU
Folk Show Sunday
University Park
PA
WPTS
Pittsburgh
PA
WQBR
McElhattan
PA
WQBR
McElhattan
PA
WRDV-FM 89.3
Sunday Soiree
Warminster
PA
WVIA-FM 89.9
Mixed Bag
Pittston
PA
WXPN
Folkadelphia
Philadelphia
PA
WXPN
The Folk Show
Philadelphia
PA
WXPN
New Music Show
Philadelphia
PA
WXPN-FM 88.9
Afternoons
Philadelphia
PA
WYEP
An American Sampler
Pittsburgh
PA
WYEP
Saturday Sunrise
Pittsburgh
PA
Folktime Productions
Folktime Productions
Indiana
PA
WRIU
Kingston Coffeehouse
Warwick
RI
WRIU
Traditions
Warwick
RI
WRIU
A Real Radio Show
Warwick
RI
WXIN-FM
Country/Folk/Top 40
Providence
RI
WOHM
Charleston
SC
WPLS-FM 96.5
Greenville
SC
WSBF
Clemson
SC
WUSC
Columbia
SC
American Songwriter
Nashville
TN
Bluegrass Radio Network
Brentwood
TN
SBB Community Radio
Powell
TN
SiriusXM
Bluegrass Junction
Nashville
TN
WAWL-FM 91.5
Chattanooga
TN
WDVX
Americana Mix Sat. Afternoons
Knoxville
TN
WDVX
Americana Mix Weekdays
Knoxville
TN
WDVX
Americana Pulse
Knoxville
TN
WDVX
Category Stomp
Knoxville
TN
WDVX
Blueplate Special
Knoxville
TN
WEPG AM 910
Jasper
TN
WEPG AM 910
Jasper
TN
WETS
Americana Express
Johnson City
TN
WEVL
Memphis
TN
WEVL
Between the Cracks
Memphis
TN
WEVL
Folk Fiesta
Memphis
TN
WFIV
Knoxville
TN
WJFC
Jefferson City
TN
WJFC
Between the Pines Bluegrass
Jefferson City
TN
WMCT AM 1390
Afternoon Drive
Mountain City
TN
WMOT
Roots Radio
Murfreesboro
TN
WMSR
Thunder Radio's Bluegrass Crossroads Show
Manchester
TN
WMSR
Bluegrass Crossroads
Manchester
TN
WMTS
Murfreesboro
TN
WRFN-LP
Nashville
TN
WRLT
Nashville
TN
WRLT
Nasvhille
TN
WRLT
Nashville
TN
WUOT-FM 91.9
Mountain Jubilee
Knoxville
TN
WUTC
Afternoon Music
Chattanooga
TN
WUTS 91.3 FM
Sewanee
TN
WZYX-AM 1440
WZYX-AM 1440
Cowan
TN
Big Star 97
White Settlement
TX
DMX Music
Austin
TX
High Plains Public Radio (Amarillo)
Amarillo
TX
KCCT
Corpus Christi
TX
KEDT-FM
Some Call it Folk
Corpus Christi
TX
KEOS
College Station
TX
KETR
The Bluegrass Special
Commerce
TX
KFWR
Fort Worth
TX
KGSR
Austin
TX
KHYI
The All Star Morning Show
Dallas
TX
KNBT
New Braunfels
TX
KNBT
Americana Morning Show
New Braunfels
TX
KNON FM 89.3
Dallas
TX
KOOP
Austin
TX
KOOP-FM 91.7
Rancho Del Ray
Austin
TX
KOOP-FM 91.7
The International Folk Bazaar
Austin
TX
KPFT-FM 90.1
Houston
TX
KRUN
Ballinger
TX
KSYM
San Antonio
TX
KTCU-FM
Fort Worth
TX
KTCU-FM
Fort Worth
TX
KTEP
Folk Fury
El Paso
TX
KTEP
What's New
El Paso
TX
KTRL
Stephenville
TX
KTRU-FM 91.7
Houston
TX
KTSU
Houston
TX
KUT/KUTX FM
Austin
TX
KUTX
Austin
TX
KVRX-FM 91.7
Austin
TX
Radiowayne.com
Fort Worth
TX
Sun Radio
Austin
TX
Third Coast Music Network
San Antonio
TX
KPCW
Park City
UT
KRCL
Back Porch Blues Ramble
Salt Lake City
UT
KRCL
Night Train
Salt Lake City
UT
KRCL
Saturday Breakfast Jam
Salt Lake City
UT
KZMU 89.7 FM
Moab
UT
KZMU 89.7 FM
Amarillo Highway
Castle Valley
UT
KZMU 89.7 FM
Castle Valley
UT
NewFolkRadio
Salt Lake City
UT
Roots Music Report
MOAB
UT
American Rhythm
Bridgewater
VA
Americana Rhythm
Bridgewater
VA
Bluegrass Unlimited
Warrenton
VA
Eclectic Hours
Eclectic Hours
Falls Church
VA
Fairfax Public Radio
Fairfax
VA
Mark Redfern
Under The Radar
Rockbridge
VA
RadioFreeAmericana
Verona
VA
Traditions
Falls Church
VA
WUVT
Blacksburg
VA
WBCM
Bristol
VA
WBCM
Radio Bristol Americana
Bristol
VA
WBTX
Broadway
VA
WCNR 106-1 The Corner
Charlottesville
VA
WCVE FM
The Electric Croude
Richmond
VA
WDCE 90.1 FM
Old Folk New Folk & the Mountain Muse
Richmond
VA
WFLO-FM 95.7
Farmville
VA
WGOE
Richmond
VA
WHEE
Martinsville
VA
WHRV-FM 89.5
Out of the Box
Norfolk
VA
WLUR-FM 91.5
Pickin' and Choosin'
Lexington
VA
WLUR-FM 91.5
The Billy & Burke Show
Lexington
VA
WLUR-FM 91.5
GrassRoots
Lexington
VA
WNRN
Acoustic Sunrise
Charlottesville
VA
WNRN
Country Feedback
Charlottesville
VA
WNRN
Fresh Roots, New Blues
Charlottesville
VA
WNRV AM 990
Mountain Music Show
Narrows
VA
WRIR 97.3 FM
Let's Wing It!
Richmond
VA
WRIR 97.3 FM
The Edge of Americana
Richmond
VA
WRIR 97.3 FM
Wide Ear Folk
Richmond
VA
WRRW-FM
Williamsburg
VA
WTJU-FM 91.1
Sunset Road
Charlottesville
VA
WTJU-FM 91.1
Back Up and Push
Charlottesville
VA
WTJU-FM 91.1
Around This Town
Charlottesville
VA
WTJU-FM 91.1
Charlottesville
VA
WTJU-FM 91.1
Cosmic American Jamboree
Charlottesville
VA
WTJU-FM 91.1
Folk & Beyond
Charlottesville
VA
WTJU-FM 91.1
Charlottesville
VA
WUVT
The Americana Trail
Blacksburg
VA
WVTF
Roots Down
Roanoke
VA
WZAP-FM
WZAP-FM
Bristol
VA
Big Al's Bluegrass Show
Big Al's Bluegrass Show
Grundy
Va
Bluegrass Today
Bluegrass Today
Roanoke
VA
The Point-FM
Crossroads
Montpelier
VT
The Song Parlor
Burlington
VT
Vermont Public Radio
All the Tradition
Colchester
VT
WGDR
Acoustic Harmony
Marshfield
VT
WGDR
Plainfield
VT
WRMC-FM 91.1
Middlebury
VT
WRUV
Our Intent Is All for Your Delight
Burlington
VT
WRUV
Emotional Weather Report
Burlington
VT
WWPV 92.5 FM
Colchester
VT
Fretboard Journal
Seattle
WA
KAOS-FM 89.3
Olympia
WA
KBCS
Folksounds
Bellevue
WA
KBCS
Our Saturday Tradition
Bellevue
WA
KBCS
Road songs
Bellevue
WA
KBCS
Sunday Folks
Bellevue
WA
KBCS
Walkin' The Floor
Bellevue
WA
KCHW FM
Chewelah
WA
KEXP
Seattle
WA
KPBX
Spokane
WA
KSER-FM 90.7
Everett
WA
KUGS-FM 89.3
Bellingham
WA
KUGS-FM 89.3
Bellingham
WA
KVGD-LP
Goldendale
WA
KWCW
Totally Wired
Walla Walla
WA
Northwest Public Radio
Inland Folk
Pullman
WA
Radio Crystal Blue
Tacoma
WA
Simply Folk
Madison
WI
WBCR-FM 90.5
Boss Hog's Bluegrass
Beloit
WI
WBCR-FM 90.5
Folk & Blues
Beloit
WI
WHAD-FM 90.7
Madison
WI
Wisconsin Public Radio
Simply Folk
Madison
WI
WJMQ
Frog Country Morning Show
Shawano
WI
WMSE-FM 91.7
Milwaukee
WI
WMSE-FM 91.7
Overnight Sensations
Milwaukee
WI
WMSE-FM 91.7
The Happy Monday Show
Milwaukee
WI
WOJB-FM 88.9
The Afternoon Show
Hayward
WI
WOJB-FM 88.9
Folkways
Hayward
WI
WORT-FM
Madison
WI
WORT-FM 89.9
Madison
WI
WPCA-LP
Amery
WI
WSUM
Madison
WI
WWSP
Acoustic Revival
Stevens Point
WI
WXPR-FM
Northwoods Cafe Monday
Rhinelander
WI
WXPR-FM
Northwoods Cafe Tuesday
Rhinelander
WI
WXPR-FM
Northwoods Cafe Wednesday
Rhinelander
WI
WXPR-FM
Northwoods Cafe Thursday
Rhinelander
WI
bluegrassmix.com
St. Albans
WV
EIO Productions
Sidetracks
Keyser
WV
WELD
Fisher
WV
West Virginia Public Broadcasting
Lost Highways
Charleston
WV
WPLN
Bluegrass Breakdown
Clarksburg
WV
WVMR
The Ecletic Tavern
Dunmore
WV
WVMR
Folk Sampler
Dunmore
WV
WVMR
Bluegrass Reflections
Dunmore
WV
WVMR
Caroline in the Morning
Dunmore
WV
WWOV
There's Music in The Air
Wheeling
WV
WWVU
Alternate Routes
Morgantown
WV
KHOL 89.1 Jackson Hole Radio
Jackson
WY
KUWR
Morning Music
Laramie
WY
KUWR
The Ranch Breakfast Show
Laramie
WY
2AIR FM
Grassroots
AUSTRALIA
2MAX FM 91.3
Folkus
AUSTRALIA
2MCE Community Radio
Come All Ye
AUSTRALIA
3 PVR Plenty Valley FM
AUSTRALIA
3INR FM
Folk and Roots
AUSTRALIA
3MDR
Folk on the Fringe
AUSTRALIA
3MDR
Uncut and Unsigned
AUSTRALIA
3PVR Plenty Valley FM
The Whipping Post
AUSTRALIA
3RUM – Radio Upper Murray
AUSTRALIA
3WBC Radio
Crichton's Country Music Radio Show
AUSTRALIA
88.9 WYN FM
I've heard that song before
AUSTRALIA
Apple-FM 98.5
AUSTRALIA
EBIFM
Folk 'til Midnight/Good morning Folk
AUSTRALIA
FM 98.5
AUSTRALIA
HappyFM
AUSTRALIA
Hawkesbury Radio
AUSTRALIA
Mansfield Community Radio Inc.
Celtic Journey
AUSTRALIA
Mansfield Community Radio Inc.
Mark's Morning Music Mix
AUSTRALIA
PBS FM 106.7
What The Folk!
AUSTRALIA
Phoenix FM
Radio Folk
AUSTRALIA
Radio Adelaide 101.5FM
The Folk Show
AUSTRALIA
Radio Eastern 98.1 FM
Music From Around The World
AUSTRALIA
Slinga's Independent Country
AUSTRALIA
Tripple U-Shoalhaven FM
The Big Al Bluegrass Show
AUSTRALIA
Archangel's Country Club
AUSTRIA
Radio Osttirol
AUSTRIA
Radio ATL
Roots Revival
BELGIUM
CFMU-FM 93.3
Freewheeling Folk Show
CANADA
CFRO 102.7 FM
What The Folk
CANADA
CFRO 102.7 FM
Blur and Lonesome
CANADA
CFRU 93.3 FM
CANADA
CHRW 94.9
For The Folk
CANADA
CHRW 94.9
Uncle Dan's Old Time Radio Hour
CANADA
CITR Edge On Folk
CANADA
CITR-FM 101.9
CANADA
CITR-FM 101.9
Pacific Pickin'
CANADA
CJLX-FM 91.3
Sunday Coffee House
CANADA
CJTR 91.3 FM
Deeper Well
CANADA
CJTR 91.3 FM
Borderlines
CANADA
CJUM 105.1 UMFM
Tell The Band To Go Home
CANADA
CJUM University of Manitoba
Waxies Dargle
CANADA
CKCU-FM 93.1
CANADA
CKHA Canoe FM
CANADA
CKPC
Just US Folk
CANADA
CKUA Radio Network
Wide Cut Country
CANADA
CKUA Radio Network
Folk Routes
CANADA
CKUT Folk Directions
Folk Directions
CANADA
CKWR 98.5 FM
Songs From The Wood
CANADA
Erin Radio
CANADA
Folk Roots Radio
Folk Roots Radio
CANADA
Stingray Music
Folk Roots
CANADA
John Sillbert
CANADA
SCAWC
DENMARK
BGR–BlueGrassRadio
ESTONIA
IDFM Radio Enghien
FRANCE
ISA Milieu
FRANCE
Radio Arc En Ciel Strasbourg
FRANCE
Radio Aria 99.6
FRANCE
Radio Galere
Dixie
FRANCE
Radio Waves International
FRANCE
Country Jukebox
Country Jukebox
GERMANY
Radio EMS Vechte Welle
Hillbilly Rockhouse
GERMANY
Radio ISW-FM
Folk & Country Corner
GERMANY
Radio Neckarburg
GERMANY
Radio ZuSa
GERMANY
KPRG-FM 89.3
GUAM
W.F. Radio
HOLLAND
Dublin City FM 103.2 FM
Good Morning Dublin
IRELAND
Radio Upper Galilee 105.3 FM
WorldWaves
ISRAEL
Radio Cernusco Stereo
ITALY
Radio Incontro Pesaro
ITALY
Susa Onda Radio
Happy Trails
ITALY
Shonan Beach 78.9 FM
Yellow Beat
JAPAN
KCR FM Network
NEW ZEALAND
Oamaru Heritage Radio/NZCMR
NEW ZEALAND
Plains 96.9 FM
NEW ZEALAND
Radio Kidnappers 1431 AM
NEW ZEALAND
Town & Country Radio
NEW ZEALAND
Drive 105.3FM
For Folks Sake
NORTHER IRELAND
Radio Avesta
SWEDEN
Country Style
Country Style
THE NETHERLANDS
Dollard Radio-FM
THE NETHERLANDS
Radio Eagle 107.9 FM
THE NETHERLANDS
Radio Gasterland
THE NETHERLANDS
Radio Hoeksche Waard
THE NETHERLANDS
Radio Nunspeet
THE NETHERLANDS
Radio Schouwen Duiveland
Dat is Carrousel
THE NETHERLANDS
Radio Steenwyk
THE NETHERLANDS
Radio Venray + Radio Huissentv
THE NETHERLANDS
Radio West Friesland 103.9 FM
THE NETHERLANDS
RTV Katwijk Radio
THE NETHERLANDS
BBC Radio Shetland
UNITED KINGDOM
cmrnashville/WCR
Sounds Country
UNITED KINGDOM
TotallyRadio
UNITED KINGDOM
WHCR-FM 106.9
UNITED KINGDOM
WVGN
VIRGIN ISLANDS
Swansea Sound

DIGITAL SERVICING:

RTSH
Albania
Love Radio
Albania
What's UP Radio
Albania
Top Albania Radio
Albania
Radio Emigranti
Albania
Radio Dardania
Albania
ACE FM
Andalucia
Andorra Difusio
Andorra
KlASS FM 92.9
Anguilla
Radio Anguilla 95.5 FM
Anguilla
Observer Radio
Antigua
Rogers Radio Caribbean
Antigua
ZDK Liberty Radio International
Antigua
Public Radio of Armenia
Armenia
AR Radio
Armenia
LAV Radio FM
Armenia
Nor Radyo
Armenia
Aurora Radio
Armenia
Radio Van
Armenia
Canal 90FM
Aruba
ORF Radio Kärnten
Austria
Radio 88.6
Austria
Antenne Kärnten
Austria
Antenne Salzburg
Austria
Antenne Tirol
Austria
Antennevorarlberg
Austria
Campus Radio
Austria
Radio Energy Österreich
Austria
ERF Medien österreich Gmbh
Austria
Freies Radio Salzkammergut
Austria
Freies Radio Innsbruck
Austria
Kronehit Digital
Austria
Lounge FM
Austria
Mac Jingle
Austria
N Joy Radio
Austria
Orange 94
Austria
Radio Agora
Austria
Allelon Radio
Austria
Radio Alpina
Austria
Radio Arabella
Austria
Radio Fabrik
Austria
Radio Freequenns
Austria
Radio FRO
Austria
Radio Grün
Austria
Radio Harmonie
Austria
Radio Helsinki
Austria
Radio Maria
Austria
Radio Osttirol
Austria
Radio Proton
Austria
Sound Portal
Austria
Radio Technikum
Austria
Radio U1 Tiroli
Austria
Radio Volksmusik
Austria
Radio Ypsilon
Austria
Welle 1 Linz Radio
Austria
Unzmarkt Frauenburg
Austria
Lider FM
Azerbaijan
Island 102.9 FM
Bahamas
Radio ZNS Bahamas
Bahamas
Peace 107.5fm
Bahamas
Voice of Barbados
Barbados
Life 97.5FM
Barbados
Barbados Community College Radio
Barbados
Buncker Praize Radio
Barbados
Pulse Radio
Barbados
Dushevnoe Radio
Belarus
HIT Radio
Belarus
Accent FM
Belgium
City Music
Belgium
Club FM
Belgium
Family Radio
Belgium
Brussels Radio
Belgium
FM Goud
Belgium
GRK FM
Belgium
Komilfoo FM
Belgium
MIG
Belgium
Molenland
Belgium
Q-music
Belgium
Radio Apollo
Belgium
Radio Brouwer
Belgium
Radio Diest
Belgium
Radio Internazionale
Belgium
Radio IRO
Belgium
Radio Katanga
Belgium
Radio Land Van Waas
Belgium
Radio Lichtaart
Belgium
Radio Lorali
Belgium
Radio Maria
Belgium
Radio Minerva
Belgium
Radio Mol
Belgium
Radio Monza
Belgium
Radio Opsinjoor
Belgium
Radio Reflex
Belgium
Radio Spes
Belgium
Radio Tequila Deinze
Belgium
Roots Radio
Belgium
Top Radio
Belgium
Trendy FM
Belgium
Vibes Radio
Belize
KREM FM
Belize
Vibe 103FM
Bermuda
BH Radio 1
Bosnia
Kupreski Radio
Bosnia
Radio 8
Bosnia
Radio Ba
Bosnia
Radio BN
Bosnia
Radio Brcko
Bosnia
Radio Busovača
Bosnia
Radio Feral
Bosnia
Radio Kakanj
Bosnia
Radio Livno
Bosnia
Radio Marija
Bosnia
Radio Mir Medugorje
Bosnia
Radio Posušje
Bosnia
Radio Sarajevo
Bosnia
RTV Slon Tuzla
Bosnia
Big Radio
Bosnia
Studentski eFM Radio
Bosnia
BNR2 Hristo Botev
Bulgaria
Radio Blagoevgrad
Bulgaria
Radio Shumen
Bulgaria
Alpha Radio FM
Bulgaria
BG Radio
Bulgaria
Bumerang FM
Bulgaria
FM Plus
Bulgaria
Katra FM
Bulgaria
Power FM
Bulgaria
Radio 999
Bulgaria
Radio Antena
Bulgaria
Radio Bella
Bulgaria
Radio Berkk M
Bulgaria
Radio Focus
Bulgaria
Radio K2
Bulgaria
Radio Vega
Bulgaria
Radio Z Rock
Bulgaria
Radio Zorana
Bulgaria
Star FM
Bulgaria
Big Fish 95.5 FM
Cayman Islands
HR Radio
Croatia
Antena Zagreb
Croatia
Gradski Radio Trogir
Croatia
HIT Radio
Croatia
Hrvatski Radio
Croatia
Jadranski Radio
Croatia
KULT Radio
Croatia
Narodni Radio
Croatia
Nautic Radio Kaštela
Croatia
Novi Radio
Croatia
Otvoreni Radio
Croatia
Radio 101
Croatia
Radio Banovina
Croatia
Radio Borovo
Croatia
Radio Brac
Croatia
Radio Centar
Croatia
Radio Dalmacija
Croatia
Radio Jaska
Croatia
Radio Kaj
Croatia
Radio Koprivnica
Croatia
Radio Korcula
Croatia
Radio Labin
Croatia
Radio M
Croatia
Radio Maestral
Croatia
Radio Max
Croatia
Radio Mrežnica
Croatia
Radio Narona
Croatia
Radio Novska
Croatia
Radio Ogulin
Croatia
Radio Orahovica
Croatia
Radio Ritam
Croatia
Radio Sisak
Croatia
Radio Student
Croatia
Radio Sibenik
Croatia
Radio Stubica
Croatia
Radio Sunce
Croatia
Radio Terezija
Croatia
Radio Vallis Aurea
Croatia
Radio Varaždin
Croatia
Radio Velika Gorica
Croatia
Soundset Plavi
Croatia
Super Radio
Croatia
Totalni FM
Croatia
Radio Semiya
Curacao
Mix FM
Cyprus
Super FM
Cyprus
Classic FM
Cyprus
Club Radio
Cyprus
Country Radio
Cyprus
Dance RAdio
Cyprus
Evropa 2
Czech Republic
Express FM
Czech Republic
Fajn
Czech Republic
Free Radio 107 FM
Czech Republic
Frekvence
Czech Republic
Hitradi Dragon
Czech Republic
Kiss 98 FM
Czech Republic
Oldies Radio
Czech Republic
Radio 1
Czech Republic
Radio BEAT
Czech Republic
Radio Blanik
Czech Republic
Radio Cas
Czech Republic
Radio City
Czech Republic
Radio Egrensis
Czech Republic
Radio Impuls
Czech Republic
Radio Jih
Czech Republic
Radio Jihlava
Czech Republic
Radio Krokodyl
Czech Republic
Radio Limonadovy Joe
Czech Republic
Radio Petrov
Czech Republic
Relax RAdio
Czech Republic
Hey Radio
Czech Republic
Spin Radio
Czech Republic
Radio Valassko
Czech Republic
Radio Zlin
Czech Republic
Rock Max
Czech Republic
Radio Go!FM
Denmark
Radio Alfa Midtjylland
Denmark
Radio Als
Denmark
Radio Ballerup
Denmark
RAdio Diablo
Denmark
Radio Globus
Denmark
VLR
Denmark
Radio Klitholm
Denmark
Radio Køge
Denmark
Radio Limfjord
Denmark
Radio M
Denmark
Radio Max Danmark ApS
Denmark
Radio Nord
Denmark
Radio Skive
Denmark
radio Sydhavsorne
Denmark
Radio Viborg
Denmark
Tiger FM
Denmark
DBS Radio
Dominica
KAIRI FM
Dominica
ZGBC Voice of Life Radio
Dominica
Dominica Catholic Radio
Dominica
Vikerraadio
Estonia
Raadio 2
Estonia
Raadio HIT FM
Estonia
Kuressaare Pereraadio
Estonia
Marta FM
Estonia
Narodnoe Radio
Estonia
Radio Mania
Estonia
Retro FM
Estonia
Ring FM
Estonia
Ruut FM
Estonia
Tartuskoje Semeinoje Radio
Estonia
Tre Radio
Estonia
Rás 2
Estonia
Radio Åland
Finland
France Inter
France
Activ Radio
France
Agora FM
France
Alta Frequenza
France
ARL FM
France
Arvorig FM
France
De Beaub FM
France
Beaur FM
France
Canal B
France
Canal Sud
France
Cocktail FM
France
Collines La Radio
France
Corsica Radio
France
Cristal FM
France
Enjoy 33
France
FC Radio
France
Flash FM
France
France Maghreb
France
Frequence Luz
France
Frequence Sille
France
Fugi FM
France
Isabelle FM
France
Kiss FM
France
Lyon 1ère
France
Melodie FM
France
Melody FM
France
Mistral FM
France
Music Box
France
Nice Radio
France
Absolut Radio
Germany
Antenne AC
Germany
Antenne KH
Germany
Antenne Bayern
Germany
Antenne Duesseldorf
Germany
Antenne Frankfurt
Germany
Antenne Landau
Germany
Antenne Münster
Germany
Antenne MV
Germany
Antenne Niederrhein
Germany
Antenne Niedersachsen
Germany
Apollo Radio
Germany
Baden FM
Germany
Bayernwelle SüdOst
Germany
BB Radio
Germany
Bermudafunk
Germany
Radio Bremen
Germany
Burn FM
Germany
Campus FM
Germany
Charivari 98.6
Germany
CT Das Radio
Germany
Delta Radio
Germany
Deluxe Music
Germany
Deutschlandradio
Germany
DRadio Wissen
Germany
Die Neue 107.7
Germany
Freies RAdio Kassel
Germany
Hamburg Zwei
Germany
Radio Harmony
Germany
Antenne 1
Germany
Hamburger Lokalradio
Germany
Hochschulradio
Germany
HR2
Germany
Kiel FM
Germany
Kölncampus
Germany
Landeswelle
Germany
LOHRO
Germany
multicult.fm
Germany
NDR
Germany
Radio Bonn/Rhein-Sieg
Germany
Radio Darmstadt
Germany
Radio Free FM
Germany
Radio Gutersloh
Germany
Radio Heimatmelodie
Germany
Radio Lotte Weimar
Germany
Radio Mainwelle
Germany
Radio Mittweida
Germany
Radio PSR
Germany
Radio Q
Germany
Radio Ramasuri Rundfunk
Germany
Radio Regenbogen
Germany
Radio SB
Germany
Radio StHörfunk
Germany
Radio X
Germany
R.SA
Germany
Kultur Radio
Germany
Rockland.fm
Germany
Hitradio SKW
Germany
Syltfunk Radio
Germany
Radio 106.4 Top FM
Germany
Unser Radio
Germany
Wartburg-Radio
Germany
WDR 3
Germany
Welle Niederrhein
Germany
Freies Radio Wüste Welle
Germany
Radio Gibraltar
Gibraltar
902 Aristera sta FM
Greece
Galaxy 106.1
Greece
Legend FM
Greece
Radio Drama
Greece
Radio Pieria 104.2
Greece
Harbour Light Christian Radio
Grenada
GTC Radio
Grenada
WEE FM Radio Grenada
Grenada
The Soul of Grenada
Grenada
Vibes 101.3 FM
Grenada
NTN Radio
Guyana
Real FM
Guyana
Hits and Jams 94.1 Boom Fm
Guyana
Merundoi Radio Drama
Guyana
Signal FM
Haiti
Radio Ginen
Haiti
Radio Balade FM
Haiti
Radio Rio De Dios
Honduras
Blue Wave Radio Roatan 101.1 FM
Honduras
Mediaklikk
Hungary
Amadeus Radio
Hungary
Aqua Radio
Hungary
Balaton Radio
Hungary
Civil Radio
Hungary
Folk Radio
Hungary
Forras Radio
Hungary
Korona FM 100
Hungary
Nyugat Radio
Hungary
Torony Radio
Hungary
Sudurland FM
Iceland
Utvarp Saga 99.4
Iceland
RTE Radio 1
Iceland
Beat 102103
Ireland
103.2 Dublin City FM
Ireland
Dublin South FM
Ireland
Dundalk FM
Ireland
East Coast FM
Ireland
Highland Radio
Ireland
KCLR
Ireland
KFM
Ireland
Live 95fm
Ireland
LMFM
Ireland
Near 90.3 FM
Ireland
Ocean FM
Ireland
Dublin's Q102
Ireland
Radio Kerry
Ireland
South East Radio
Ireland
Spin 103.8FM
Ireland
Tipp FM
Ireland
Today FM
Ireland
TXFM
Ireland
WLR FM
Ireland
Antenna 1
Italy
Redazione Bella Radio
Italy
Ciao Como
Italy
Ciao Radio
Italy
Ciccio Riccio
Italy
Controradio
Italy
Country Power Station
Italy
Delta RAdio
Italy
Easy Network
Italy
FM Classic
Italy
Radio Adige
Italy
Radio Amore
Italy
Radio Antenna Verde
Italy
Radio Bella and Monella
Italy
Radio Belluno
Italy
Radio Dolomiti
Italy
Radio Fiemme 104
Italy
Radio Gelosa
Italy
Radio Gold
Italy
Radio Iglesias
Italy
Radio Kairos
Italy
Radio Kiss Kiss Napoli
Italy
Radio Lodi
Italy
Radio Mania
Italy
Radio Millennium
Italy
Radio MPA
Italy
Radio Mugello
Italy
Readio Nettuno
Italy
Radio Nuova
Italy
Radio Ondarossa
Italy
Radio Padova
Italy
Radio Panorama
Italy
Radio Popolare
Italy
Radio Reporter
Italy
Radio Rosa
Italy
La Migliore Alternativa
Italy
Radio Siena TV
Italy
Radio Tirol
Italy
Radio Touring
Italy
Radio Valbelluna
Italy
Radio Montecarlo
Italy
Solo Radio
Italy
Stella FM
italy
TeleRadioStereo
italy
TRS 102.3
italy
Top Italia Radio
italy
Radio Llapi
italy
Mello FM
Jamaica
TBC Radio
Jamaica
Nationwide Radio
Jamaica
Latvijas Radio
Latvia
Radio Skonto
Latvia
Radio SWH Rock
Latvia
Radio Tev
Latvia
Star FM
Latvia
Radio Liechtenstein
Liechtenstein
Lietuvos Radijas 1
Lithuania
Classic Rock FM
Lithuania
Gold FM
Lithuania
Laluna
Lithuania
M-1 plius
Lithuania
Nano Radijas
Lithuania
Neringa FM
Lithuania
Radijas TAU
Lithuania
RS2
Lithuania
Saulės radijas
Lithuania
Eldo Radio
Lithuania
Ekspres Radio
Macedonia
MX Radio
Macedonia
SuperRadio
Macedonia
Bay Radio
Malta
Calypso Radio
Malta
Malta University
Malta
Radju Luminaria
Malta
Jurnal FM
Moldova
Maestro FM
Moldova
Publika FM
Moldova
Radio Chisinau
Moldova
Radio Media
Moldova
Radio Noroc
Moldova
Radio Plai
Moldova
Radio Prim
Moldova
UniversFM
Moldova
Rivera Radio
Monaco
Radio Monaco
Monaco
Radio 083
Montenegro
Student Radio Krš
Montenegro
Skala Radio
Montenegro
NPO Radio 2
Netherlands
NPO 3FM
Netherlands
Oke FM
Netherlands
Achterhoek FM
Netherlands
Airplay Radio
Netherlands
Studio Alphen
Netherlands
Leuk FM
Netherlands
Candlelight
Netherlands
Compleet FM
Netherlands
Concertzender
Netherlands
Delta FM
Netherlands
NRK
Norway
Nærkanalen
Norway
P4 rAdio
Norway
Radio Atlantic
Norway
Radio Bardufoss
Norway
Radio Bø
Norway
Radio Folgefonn
Norway
Radio Grenland
Norway
Radio Hallingdal
Norway
Radio Kongsvinger
Norway
Radio L
Norway
Radio Loland
Norway
Radio Lyngdal
Norway
Radio Meloy
Norway
Radio Nova
Norway
Radio Randsford
Norway
Radio Salten
Norway
RAdio Sandefjord.no
Norway
Radio Sandnes
Norway
Radio Sotra
Norway
Radio Sør
Norway
Radio Tromsø
Norway
Radio Tønsberg
Norway
Radio Oksnes
Norway
Radio Rox
Norway
Stavanger Studentradio
Norway
KRSBY
Norway
Radio Bialystok
Poland
PR Radio Dla Ciebie
Poland
Radio Katowice
Poland
Radio Kielce
Poland
Polskie Radio Koszalin
Poland
Radio Krakow
Poland
Off Radio Krakow
Poland
Radio Lodz
Poland
Polskie Radio Lublin
Poland
RAdio Olsztyn
Poland
Radio Opole
Poland
Polskie Radio PiK
Poland
Polskie Radio Rzeszów
Poland
Radio Ram
Poland
Plyta Tygodnia
Poland
Radio Zachód
Poland
Radio Luz
Poland
Anty Radio
Poland
RAdio 5
Poland
Radio Afera
Poland
Radio Akadera
Poland
Radio Centrum
Poland
Radio EM
Poland
Radio Express
Poland
RAdio Kolor
Poland
Radio Victoria
Poland
Studenckie Radio Zak
Poland
Tuba FM
Poland
Radio UWM
Poland
Altitude FM
Portugal
Iris FM
Portugal
Radio Limite
Portugal
Radio Nova
Portugal
RFM
Portugal
TLA Radio
Portugal
Rum
Portugal
Radio Romania
Romania
Radio Romania Resita
Romania
Radio Mures
Romania
Radio Erdely
Romania
RAdio FAvorit
Romania
Pro FM Radio
Romania
Napoca FM
Romania
Radio Balada
Romania
Radio Fir
Romania
Radio Infinit
Romania
Radio Somes
Romania
RAdio Star
Romania
Romantic FM
Romania
Radio Unirea
Romania
West City Radio
Romania
Best FM
Russia
Mir Belogorya
Russia
Mos FM
RUssia
Narodnaya Volna
RUssia
RAdio 7
RUssia
Chocolate Radio
RUssia
Radio for Two
RUssia
Taxi FM
RUssia
Bum Bum Radio
Serbia
OK Radio
Serbia
Radio Dak
Serbia
Dobre Radio
Slovakia
Radio Antena Rock
Slovakia
Media Modra
Slovakia
Radio Rock
Slovakia
Radio Plus
Slovakia
Rock Ovare
Slovakia
Záhorácke Radio
Slovakia
Koroski Radio
Slovenia
Moj Radio
Slovenia
Primorski Val
Slovenia
Radio Brezje
Slovenia
Radio Kum
Slovenia
Radio Mars
Slovenia
Radio Velenje
Slovenia
Talk Radio Europe
Spain
Central FM
Spain
Coastline FM
Spain
Cool FM Spain
Spain
Holiday FM Radio
Spain
Spectrum FM
Spain
Wave 96 FM
Spain
The Beat
Spain
Radio Gibralter
Spain
Atlantis FM
Spain
Bay Radio
Spain
Bi FM
Spain
Gum Fm
Spain
Ona Mar
Spain
Onda Fuenlabrada
Spain
Radio Oasis
Spain
Radio Pizarra
Spain
Radiosiete Valencia
Spain
Rock FM
Spain
Sveriges Radio
Spain
Sveriges Radio
Sweden
East FM
Sweden
K103
Sweden
Malmökanalen
Sweden
Pite FM
Sweden
Radio AF
Sweden
Radio Andra
Sweden
Radio Lidingo
Sweden
RAdio Mariestad
Sweden
Radio Sotenas
Sweden
Radio Sydvast
Sweden
Studenttradition 89.9
Sweden
Country Radio Switzerland
Switzerland
FM 1
Switzerland
Radio 3fach
Switzerland
Radio Basilisk
Switzerland
Radio RAdius
Switzerland
Radio Sunshine
Switzerland
Radio Rasa Schaffhausen
Switzerland
Toxic FM
Switzerland
OasisFM
Tenerife
Radio Line
Turkey
Radyoodtu radio
Turkey
Akkerman FM
Ukraine
Gorod FM
Ukraine
Planeta
Ukraine
Brighton FM
United Kingdom
Academy FM THanet
United Kingdom
Alive Radio
United Kingdom
BCFM
United Kingdom
Beverley FM
United Kingdom
Big City Radio
United Kingdom
Black Country Radio
United Kingdom
Black Diamond FM
United Kingdom
Bolton FM
United Kingdom
Dream
United Kingdom
Drive 105
United Kingdom
Drystone Radio
United Kingdom
Eden FM
United Kingdom
Erewash Sound
United Kingdom
Fantasy Radio
United Kingdom
Forest FM
United Kingdom
Frome FM
United Kingdom
Future Radio
United Kingdom
Gateway 97.8
United Kingdom
Glastonbury FM
United Kingdom
Gravity FM
United Kingdom
GTFM
United Kingdom
HCR 92.3
United Kingdom
Hayes FM
United Kingdom
HCR FM
United Kingdom
Hermitage FM
United Kingdom
Harborough FM
United Kingdom
Hillz 98.6 FM
United Kingdom
Insanity Radio
United Kingdom
Isle of Wight
United Kingdom
K107
United Kingdom
KCR
United Kingdom
Loughborough's Student Union
United Kingdom
Leisure FM
United Kingdom
Leeds STudent Radio
United Kingdom
Magic RAdio
United Kingdom
Mix 96
United Kingdom
Nevis Radio
United Kingdom
NMFM
United Kingdom
Oldham Community Radio
United Kingdom
Original FM
United Kingdom
RAdio Teesdale
United Kingdom
Saint FM
United Kingdom
Swindon 105.5
United Kingdom
Tulip Radio
United Kingdom
Two Lochs RAdio
United Kingdom
Xpress Radio
United Kingdom

WALES