Here are the artists on the Acoustic Rainbow ROOTS Sampler V45 released worldwide in December 2015
HANS THEESSINK – Delta Time TRT: 3:21 INTRO :22 END: cold UPTEMPO JENNIFER CROOK –Long Drive Back Home From Love TRT: 4:10 INTRO :12 END: cold MEDIUM THE BATTLEFIELD BAND – The Micky Dam TRT: 4:20 INTRO :11 END: cold UPTEMPO PAT FLYNN – Take Me To Forever (Radio Edit) TRT: 8:14 INTRO: 23 END: fade UPTEMPO DAVE ZOBL – John Prine Sunday Morning TRT: 3:15 INTRO :14 END: cold MEDIUM RAISON D'ETRE – The Night John Hartford Opened for Us TRT: 2:57 INTRO :10 END: cold BALLAD ROBERTA SCHULTZ – Backwards and Inside Out TRT: 4:28 INTRO :05 END: cold MEDIUM NOCTAMBULE – Since I was Begotten TRT: 3:36 INTRO: 16 END: cold UPTEMPO CARI RAY – Time TRT: 4:25 INTRO: 13 END: cold MEDIUM RICK LANG featuring STEPHEN MOUGIN – Looks Like Snow TRT: 3:50 INTRO :10 END: cold MEDIUM SHARON ANDERSON – The Other Side of Life TRT: 3:28 INTRO :11 END: cold UPTEMPO SHARON ANDERSON – Melody to Mozart TRT: 4:01 INTRO :08 END: cold BALLAD PHIL TEUMIM – Old Songs TRT: 3:21 INTRO: cold END: cold BALLAD JOHN CABLE – Silence TRT: 3:47 INTRO :12 END: cold MEDIUM BAR SCOTT – Ah ha ha TRT: 3:16 INTRO :13 END: cold UPTEMPO CHICKEN AND DUMPLING – Death Don't Have No Mercy TRT: 4:40 INTRO :45 END: cold MEDIUM MIKE JORGENSEN & THE POSSE –Sittin in the Saddle TRT: 2:34 INTRO :12 END: fade UPTEMPO DAVID HYAMS – You Are The Song TRT: 4:06 INTRO :15 END: cold UPTEMPO
Here are the artists delivering FULL CDs in this mailing: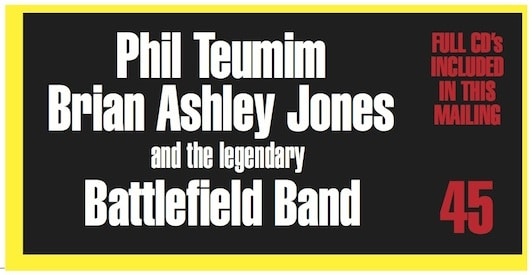 SEE THE AR 45 Jacket click here
ARTIST DETAILS and DESCRIPTIONS:
Format:  Blues     Artist: Hans Theessink
Song:  Delta Time     CD:  Delta Time
Hans is one of the premier finger picking Delta inspired bluesmen to be found anywhere. He's the real deal, simply a roots-blues master who is as good as it gets on every level. A killer picker with a magical voice and a storyteller of the highest order.
Contact:  milica@theessink.com,  blue groove/distribution CITY HALL RECORDS
Format:  AAA      Artist:  Jennifer Crook
Song:  Long Drive Back Home From Love    CD:  Carnforth Station
Beautiful, rootsy, acoustic folk that draws on Jennifer's Americana influences but remains undeniably English in it's story-telling. This acclaimed UK songwriter wrote many of the songs her 3rd album on the lever harp. Her finest work to date.
Email:  rob@bozas.com
Transatlantic Roots/Long Tale Recordings, Box Mill, Mill Lane, Box, SN13 8PL, ENGLAND
Format:  Celtic
Artist:  Battlefield Band
Song:  The Micky Dam
CD:  Beg & Borrow
New from the legendary Celtic band. The CD explores Scottish and Irish traditions, with 12 special guests, citizens of the "global village."  This song features the Band, Mike Whellans & producer Robin Morton (bodhran & backing vocals).
Email:  robin@templerecords.co.uk
Contact: Temple Records, Shillinghill, Temple, Midlothian, EH23 4SH, SCOTLAND
Format:  Americana
Artist:  Pat Flynn
Song:  Take Me To Forever
CD:  reNew
An epic Americana masterwork from former lead guitarist, and chief songwriter of New Grass Revival. John Cowan adds soaring harmony vocals. The CD has a brilliant extended jam with Pat and Rob Ickes.
Email:  mail@patflynnmusic.com
Contact:  Mea Culpa Music, 5056 Kingsview Court, Nashville, TN 37210
Format:  Americana`          
Artist:  Dave Zobl
`Song:  John Prine Sunday Morning    
CD:  Simplify
With Nashville ace Will Kimbrough producing, this Denver songwriter, now based in Nashville, pays homage to one his songwriting heroes. Recorded in Muscle Shoals, his new album "Simplify," is a poetic call to slow down and step back.
Email: DZobl@yahoo.com
Contact: Dave Zobl, PO Box 331892, Nashville, TN 37203
Format:  Folk
Artist:  Raison D'etre
Song:  The Night John Hartford Opened for Us   
CD:  So Dear
Celebrating 25 years together, this East Kentucky folk trio are known for their divinely stirring harmonies. This original written by Roberta Schultz, who is also appearing on the sampler as solo artist, is based on a true story. The album is full of heart, laughter and mountain soul.
Email: bookings@raison3.com
Contact: Detremental Records, 622 W. Johns Hill Road, Wilder, KY 41076
Format:  Folk
Artist:  Roberta Schultz
Song:  Backwards and Inside Out
CD:  One Small Step
This songwriter and poet from Kentucky performs in the folk trio Raison D'Eetre also featured on this sampler. This cut from her first solo CD is a loving tribute to her Dad written shortly after he passed away.
Email: bookings@raison3.com
Contact: Detremental Records, 622 W. Johns Hill Road, Wilder, KY 41076
Format:  Folk
Artist:  Noctambule
Song:  Since I was Begotten
CD:  The Waking
Marla Fibish and Bruce Victor are master musicians that make up this duo. Their latest project is poetry-set-to-music, beautifully recorded and masterfully played. This piece features the poetry of Stephen Vincent Benét.
Email:  noctambulemusic@gmail.com
Contact: Marla Fibish, Noctambule Music, 82 Corte del Coronado, Larkspur, CA 94939
Format:  Americana
Artist:  Cari Ray
Song:  Time
CD:  Swagger
Her smoky voice, blues roots and clever songwriting shows why she's an artist to watch on the Americana scene. Her third album was produced by Reverend Peyton and it's a unique blend of heart and grit. Contact now for the release.
Email: mdamrell@pikevilleentertainment.com
Contact:  Michelle Damrell, Pikeville Ent, PO Box 170, Nashville, IN 47448
Format:  Americana
Artist:  Rick Lang
Song:  Looks Like Snow
CD:  That's What I Love About Christmas
We serviced this beautiful acoustic roots holiday album last year and this track is a great reminder to have it ready for your holiday playlist. The album was recently nominated for two IMEA awards. A great seasonal song!
Email:  rick@ricklangmusic.com
Contact: RLM Records, PO Box 424, Kingston, NH 03848
Format:  Folk
Artist:  Sharon Anderson
Song:  The Other Side of Life
CD:  Life and Times
Sharon and co-writer Michael Shellard were prairie troubadours from Canada's West. Since then, Sharon signed with a major in Nashville and Michael played in the legendary One Horse Band. The two re-unite their creative sparks here.
Email:  sharon_l_anderson@comcast.net 
Contact: Sharon Anderson, 302 Jefferson Pike, La Vergne, TN 37086
Format:  Folk
Artist:  Sharon Anderson
Song:  Melody to Mozart
CD:  Enchanted Trails
This is an inspirational tribute to Sharon's spiritual teacher, a wistful yearning for the kind of love that blossoms majestically in the wilderness. Strings beautifully done by George Bradfute and dobro by Chas Williams. It's stunning.
Email:  sharon_l_anderson@comcast.net
Contact: Sharon Anderson, 302 Jefferson Pike, La Vergne, TN 37086
Format:  Folk
Artist:  Phil Teumim
Song:  Old Songs
CD:  All Over the Map
This tune celebrates Phil's love affair for the songs of yesterday in a very heartfelt way. The CD looks at the world with a bit of nostalgia, a dose of humor, and an eye on the future. It's included in this mailing. This is a great album!
Email:  Filibuck@gmail.com
Contact: Phil Teumim, 37 Ruxton Road, Delmar, NY 12054
Format:  Americana
Artist:  John Cable
Song:  Silence
CD:  Broken Knife
Former Nitty Gritty Dirt Band member's haunting song with searing slide guitar about communication in relationships. From his new album, where old school tradition meets modern sound layering all bringing out the best in his melodies.
Phone:  (214) 538-2767 Email:  jcable49@mac.com
Contact: Underground Cable Music, 449 W. Ponce de Leon Ave. #10, Decatur, GA 30030
Format:  Singer/Songwriter
Artist:  Bar Scott
Song:  Ah ha ha
CD:  Journey
Known for her expressive and insightful lyrics, here's a catchy original from her 7th album. Bar has been an ASCAP Special Award winner for 12 years and worked with Phoebe Snow, Beth Nielsen-Chapman, Levon and Amy Helm, and others.
Phone:  (719) 371-0228 Email:  bar@barscott.com
Contact: Lucy Max, Bar Scott, POB 576, Westcliffe, CO, 81252
Format:  Blues
Artist:  Chicken and Dumpling
Song:  Death Don't Have No Mercy   
CD:  Feel Like Goin' Home
If you love the authentic down-home, delta-style blues of Robert Johnson, Big Bill Broonzy, Bessie Smith, then check out this acoustic blues duo from California. This take on the Rev. Gary Davis is filled with great fingerpicking and gritty vocals.
Email:  cmoriel@ucdavis.edu
Contact: Charles Oriel, 2920 Prado Lane, Davis, CA 95618
Format:  Traditional
Artist:  Mike Jorgensen and the Posse
Song:  Sittin' in the Saddle
CD:  Dreams of a Cowboy
This band is on a mission to bring back songs and melodies that can be sung walking down the street or on a long walk in the woods. Acoustic instruments with traditional production and a cowboy swagger. The album is fun listen.
Email: muduckmusic@hotmail.com
Contact: Muduck Music Inc., 309 Dixie Drive, Dutton, VA 23050
Format:  Folk
Artist:  David Hyams
Song:  You Are The Song
CD:  Travelling Bones
Hailing from Perth, Western Australia, David has traveled far and wide to get his music heard while collecting many award nominations. His most recent album is his first singer/songwriter album. Strong songwriting with melodic guitar hooks.
Email: Info@milestogo.com.au
Contact: David Hyams, 127 Solomon Street, Beaconsfield, Westein, Australia, 6162