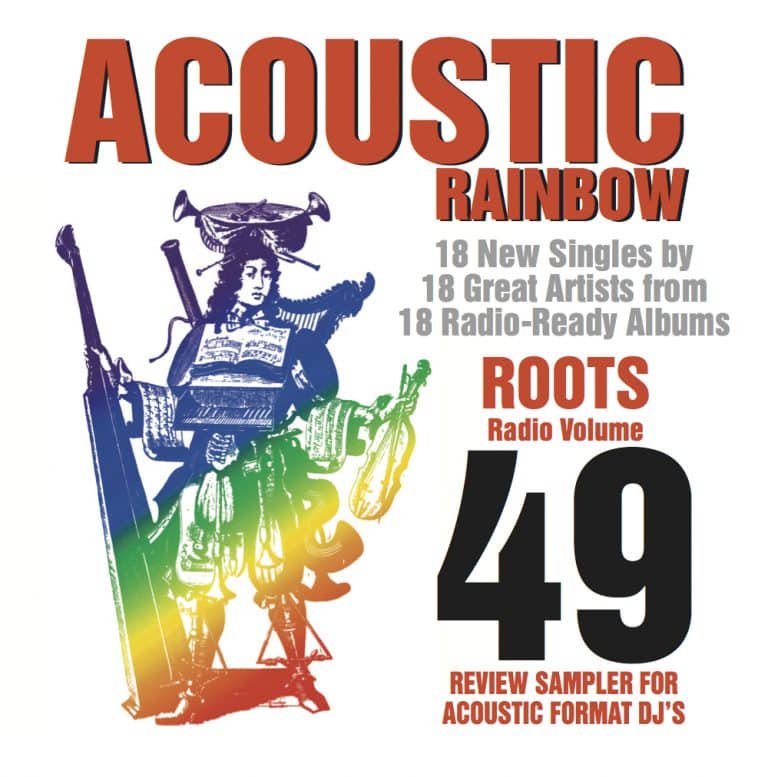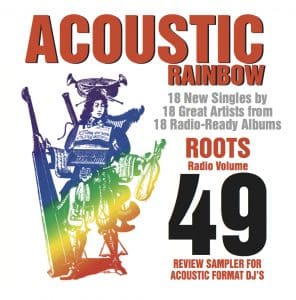 Format:  Americana
Artist:  John Oates with The Good Road Band
Song:  Arkansas
CD:  Arkansas
John Oates is one half of the best-selling duo of all-time, Hall & Oates, and member of the Rock and Roll Hall of Fame and Songwriters Hall of Fame, His latest solo project is, "Dixieland, dipped in bluegrass and salted with Delta blues.
Email:  kate@richlynngroup.com
Contact: Jasper Productions, Inc. dba PS Records
Format:  Americana
Artist:  JoAnna ~ James
Song:  Bluegrass & Roses
CD:  Bluegrass & Roses
This Kentucky duo has quickly gained traction on the roots scene with their Appalachian flavored vocals, heartfelt lyrics and noteworthy pickin'. Their new album is tribute to the Bluegrass State and the Kentucky music landscape.
Email: info@joannajamesmusic.com
Contact: JoAnna Lewis-Oldfield, 8447 US460 West, Mize, KY 41352
Format:  Americana
Artist:  The Rough & Tumble
Song:  Viroqua, WI
CD:  We Made Ourselves a Home When We Didn't Know
This thrifstore Americana style duo's latest album creates a classic folk backbone with a quirky flourish, using strong vocal harmonies, deft storytelling and an occasional kazoo. This tune is just a segment of the unending road they travel.
Email: roughandtumbletunes@gmail.com
Contact: Mallory Graham, PO Box 160474, Nashville, TN 37216
Format:  Americana
Artist:  Michael Weiskopf
Song:  Tattoo Of Jesus
CD:  Lost In Amerika (9½ Stories)
A master class of storytelling, this song, inspired by a woman he noticed with tattoos of both Shakespeare and Jesus, he soon created a song that referenced both in a one act play of attempted seduction and rejection.
Email: music@michaelweiskopf.com
Contact: Blue Highway Insomnia Music, 71 Three Mile Harbor Drive, East Hampton, NY 11957
Format:  Americana
Artist:  Christie McCarthy
Song:  Walking in Nature
CD:  Big Picture
In our hectic fast paced world, this song is nice reminder to slow down and reconnect with nature and each other. Her new album is full of compelling lyrics, killer vocals, and beautiful arrangements. Highly recommend!
Email:  christie@christiemccarthy.com
Contact: Christie McCarthy, 121 Pleasant Street, Santa Cruz, CA 95062
Format:  Americana
Artist:  Jim Ratts and Runaway Express
Song:  This Old Town
CD:  Small Towns
The new project from this Colorado based group is an ambitious cinematic salute to the American small town. Look for the full album in the next sampler mailing. Hear a preview of it now with their rustic take of a tune Janis Ian penned.
Phone: (303) 781-3314
Email: ratts@runawayexpress.com
Contact: Raven Records, 912 West Tufts Avenue, Englewood, CO 80110
Format:  Singer/Songwriter
Artist:  Dulcie Taylor
Song:  Watch Me Hurt
CD:  Better Part of Me
Dulcie's songs give insight into not only her feelings about the world we live in, but about relationships past & present. She has the uncanny ability to distill complicated situations into easily identifiable and understood realities.
Email:  george@mesabluemoon.com
Contact: Black Iris Records, 2357 Bittern Street, Arroyo Grande, CA 93420
Format:  Folk Rock
Artist:  Haynie & Samuel
Song:  Just Remember My Love, My Love
CD:  Water from the Moon
Don Haynie & Sheryl Samuel are veterans of the American folk and acoustic music circuit for nearly four decades.  They have released five albums of original songs to enthusiastic radio and critical response. Their sixth is included for review.
Email: don@haynieandsamuel.com
Contact: Don Haynie, HardPressed Records, PO Box 353, High Falls, NY 12440
Format:  Singer/Songwriter
Artist:  Adrian Nye
Song:  Dragonflies
CD:  West with the Night
With intricate guitar and smokey vocals, Adrian is a new voice on the folk/Americana scene with an incredible interesting backstory. His breakout CD is one of the most consistent records to come out of Austin in years
Email:  adrian_nye@outlook.com
Contact: Blue Dome Records, 1502 Euclid Circle, Lafayette, CO 80026
Format:  Americana
Artist:  Trisha Adams
Song:  Time's A Game
CD:  Single
Trisha is a Singer/Songwriter whose music contains beautiful melodies and ranges from blues fusion to folk-Americana. Her new adventurous single employs a pop groove with staked vocals, yet still stays true to her acoustic roots in a whole new way.
Email: trishaadamsmusic@gmail.com
Contact: Trisha Adams, 8712 Raven Avenue, Oklahoma City, OK 73132
Format:  Singer/Songwriter
Artist:  Jimmy Scott
Song:  Love Still Makes The World Go Round
CD:  Rise Above
Jimmy's songs have been recorded by many artists including Bonnie Raitt. Now, he steps forward as a Singer/Songwriter in his own voice with his acoustic-based melodic songs with heartfelt and touching lyrics. This one, gives an uplifting message in our trouble times.
Email: jimmyscott20@yahoo.com
Format:  Americana
Artist:  Elise Wunder
Song:  In Your Arms
CD:  Desert Lonely (EP)
Elise's music retains a distant familiarity with an old soul that will reach down to your bones. This track is a love song to the Earth with flamenco sounds and a theme of Dia de Los Muertos and the desert.
Email:  info@elisewundermusic.co
Contact: Elise Wunder, 1922 Mandeville Street, New Orleans, LA 70117
Format:  Americana
Artist:  Bill Steely
Song:  I'll Work Through The Night
CD:  Single
This New York songwriter is an Acoustic Rainbow fav. Bill's latest single has him traveling to Music City USA to write and record in Nashville. The result is a radio ready Americana gem celebrating blue collar grit and love.
Email: bill@skyad.com
Contact: Bill Steely, 18 Roosevelt Avenue, Larchmont, NY 10538
Format:  Folk
Artist:  Kate Magdalena
Song:  Streets of Any Town
CD:  Single
Kate uses her gift for singing to reach others in ways words cannot. Here, she puts us in the shoes of the homeless to call attention to those in need. Her uplifting anthem is a reminder to help those who need it most.
Email: Kate@Katemagdalena.com
Contact: Kate Magdalena, 6468 Lone Pine Road, Sebastopol, CA 95472
Format:  Folk Rock
Artist:  Doug and Rich
Song:  The Walk
CD:  Single
Doug Conlon and Richard Marchetta come together with ringing mandolins to harvest a contemporary gritty folk rock sound of their first release as a duo. Here's hoping for more radio friendly roots tracks like this in the near future from them.
Contact: Chandojika Music, Doug Conlon, 10736 Jefferson Blvd PMB 867, Culver City, CA 90230
Format:  Americana
Artist:  Todd Breck
Song:  Twilight at Antietam
CD:  Welcome Home
Called the bloodiest day in American history, this Delaware songwriter deeply reflects on one of the biggest battles of the Civil War with this haunting piece of music. Todd's storytelling is powerful and timely in our current divisive climate.
Email:  toddbreckmusic@gmail.com
Contact: Guyencourt Music, PO Box 65, Montchanin, DE 19710
Format:  Americana
Artist:  Reagan Hudson
Song:  Honky Tonk Side
CD:  Broken Pieces
Reagan is a bluegrass and country artist from North Carolina. This tune is a fun upbeat song about a rowdy honky tonk Saturday night. It will have your listeners ready for the weekend. Call today for the full album.
Email: Theboarhogtwist@yahoo.com
Contact: Reagan Hudson, 7204 Old Laurel Road, Vale, NC 28168
Format:  Folk
Artist:  Mc'n'Mac
Song:  Wild Mountain Thyme
CD:  Beautie on the Waters
Mc'n'Mac is Jim McAuley and Mary MacQueen, two LA-based musicians whose music reflects their shared love of folk, blues, free improvisation and classical music. Listen to their eclectic sound on this beloved Celtic tune.
Email: info@longsongrecords.com
Contact: Long Song Records, Jim McAuley, 8664 Cadillac Avenue, LA, CA 90034